Prayagraj. All India Pharmacists Association held a meeting at Haripurnima Hotel, Chandralok Square
Prayagraj. On the instructions of National President Shashi Bhushan Singh, All India Pharmacists Association held a meeting at Haripurnima Hotel located at Chandralok Chauraha in Rambagh, in which concern was expressed over the sale of drugs and illegal drug shops in the district.
Various issues were discussed in the meeting for the upliftment of the pharmacist cadre. And preparations for the upcoming Pharmacists Day (25th September) were also discussed.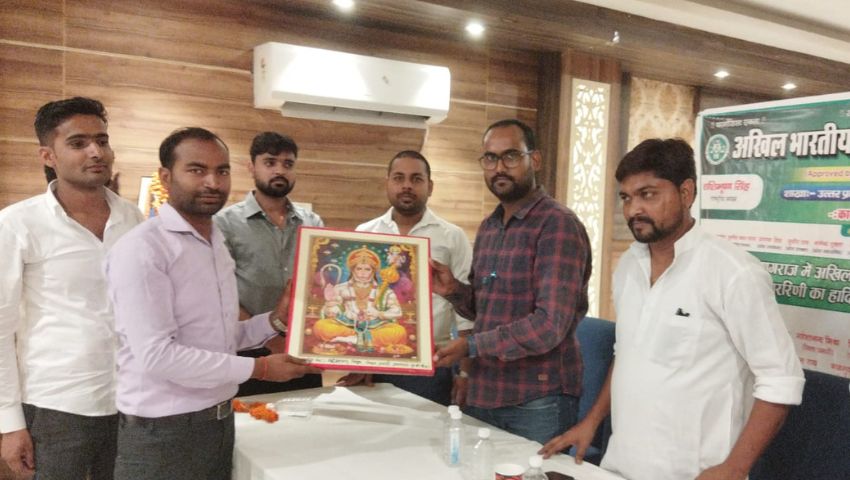 In the meeting of the All India Pharmacists Association, Mandal media in-charge Rakesh Pandey said that whatever vacancies are vacant, the state government and the central government should fill them immediately. Rakesh Pandey demanded ward pharmacists at ANM centers and in the wards of hospitals. By protecting the lives of the villagers even in difficult situations, by protecting their life values, it can improve the image of the government in the general public.
Pharmacists can implement the schemes and efforts being made by the government in relation to health. In the past, it has been seen that after feeding Albendazole tablets to some children, their health became very bad and they also died.
At the same time, patients died after applying the vaccine at many places, so the government now has sufficient number of trained pharmacists, so it is very important to appoint a pharmacist at the ANM center.
Rakesh Pandey also said that a pharmacist should be appointed at every police station level, so that any injured person who comes to the police station or who is injured in an accident, should immediately be given first aid by the pharmacists and save his life.
Former Assembly candidate and Pharmacist Dr. Sudhir Rai also expressed his views. He warned the government to remove the problems prevailing in the Pharmacist cadre and supported the views of Rakesh Pandey that the government needs to serve the public well by appointing more and more pharmacists.
Dr. Sudhir Rai also said that he would ask the leaders of the party to which he belongs to make a significant contribution in solving the problem of pharmacists.
State President All India Pharmacists Association Vinay Kumar Pandey, State General Secretary Nagendra Shukla, State Vice President Sunil Prakash Yadav, State Vice President Prashant Singh, State Spokesperson Sudhir Rai, Divisional President Narendra Yadav, Divisional Chief Dharmendra Mishra, Divisional Vice President Surendra Mishra, Divisional Media Incharge Rakesh Pandey, Incharge Teacher Wing Arvind Gupta, Divisional General Secretary Vivek Keshri, District President Ashish Yadav, District President Kaushambi Arvind Pal, District General Secretary Rahul Mishra District Incharge Maheshanand Mishra, Senior Vice President Nitesh Shukla, Treasurer Bhanu Pratap Singh, Incharge Marketing Hiralal Sahu, District Vice President Ankit Rao, District Secretary Shivam Shukla, City President Partha Shukla, Incharge Students Prashant Rai, City Media Incharge Najmuddin, Vice President Incharge Retail, Mukul Maurya, Vice President Yamunapar Anay Pratap Singh, District General Secretary Amar Singh Yadav, Rahul Yadav, Vijay Mishra, Vi Apart from Wake Keshari, Narendra Singh, Chandra Shekhar Patel, Manoj Pal, Nikhil Arya, Sanjeev Madhubani, hundreds of pharmacists were present.
Important information for all respected Pharmacist fellows of All India Pharmacists Association
I want to inform all of you that do not open your pharmacy without a drug license, if any pharmacist partner opens a pharmacy without a drug license, then he himself will be responsible for it. If you have a drugs license, then do not keep any medicine in your shop without a bill. If you have a drug license, then keep the bill of each medicine with you.
Maintain register of Schedule H.
Keep cash memo available in your pharmacy, keep deducting bills daily
Keep a separate box of expired medicine in your pharmacy
If you buy NRX group medicine, then keep the proper bill and maintain a photo copy of the patient's prescription and his mobile number in a record register to whom the medicine is given.
It is a sign of a good pharmacy to have a registered pharmacist and member of ABPA written in big letters on the board of your pharmacy. People around you will like it. Make full use of window display.
Keep the pharmacy clean.
Vinay Kumar Pandey State President All India Pharmacists Association Uttar Pradesh
video